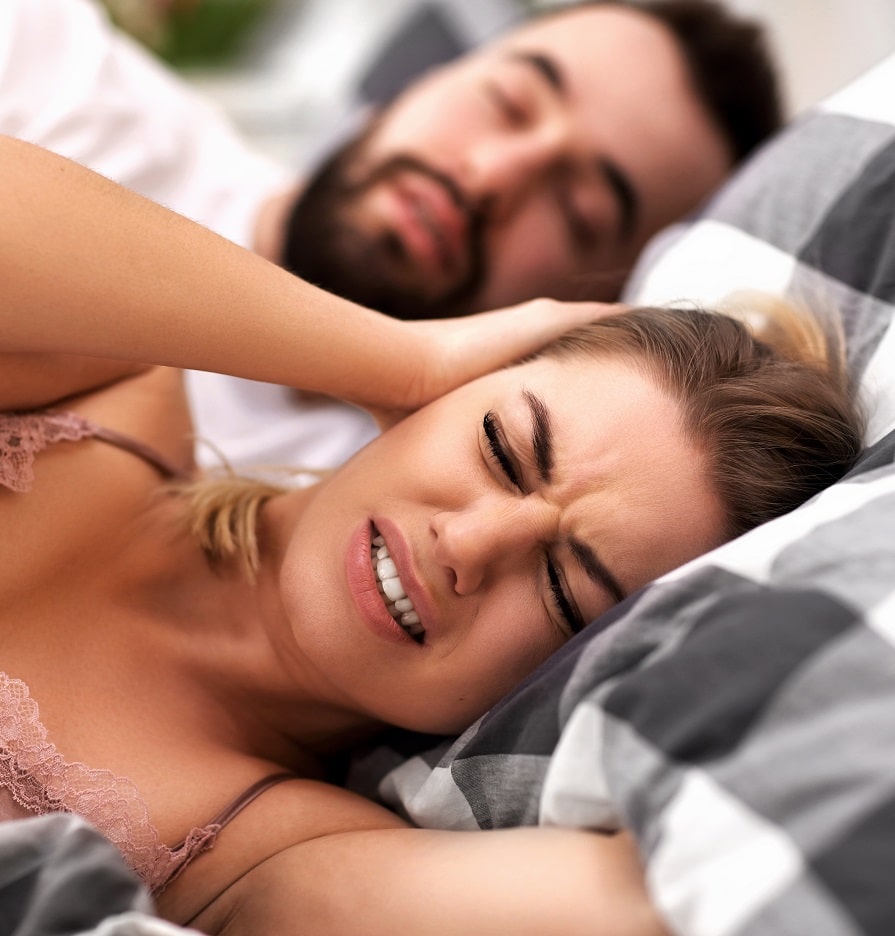 Snoring caused by temporomandibular joint (TMJ) dysfunction is a relatively common, yet underdiagnosed phenomenon. It occurs when the jaw is misaligned and causes a narrowing of the airways which leads to snoring as air passes through. The snoring associated with TMJ disorder can be especially loud when lying on the back and usually involves respiratory difficulty due to the constricted airway. It is important to recognize this type of snoring so that it can be treated appropriately, particularly since it typically worsens when left untreated and can lead to further complications.
At the TMJ & Sleep Therapy Centre of the South Shore, we understand how important a good night's sleep is. There is nothing worse than struggling through the day after a poor night's sleep due to snoring. We take pride in treating our patients so that they can get restful nights of sleep without disturbance from TMJ related snoring. Our experienced clinicians use cutting-edge technology and one-on-one consultations tailored to the individual needs of each patient as part of their recommend treatment plan. We believe in providing top notch treatment for our clients and work hard to ensure that their experience with us is positive, calming and truly effective. Don't suffer any longer than you have to – contact TMJ & Sleep Therapy Centre of South Shore for relief. Our team is specially trained in treating both TMJ disorders and persistent snoring, making us uniquely qualified to address the connection between the two. 
We Go Beyond For You
At the TMJ & Sleep Therapy Centre of the South Shore, we believe in providing comprehensive care for all of our patients. That's why in addition to offering treatment for TMJ and sleep disorders, we also offer services for persistent snoring. Our specialists work closely with each patient to create personalized treatment plans that address their individual needs. We are committed to helping our patients achieve long-term results and improve their overall health and well-being. We go beyond to provide exceptional care for our patients.

Providing Non-Surgical Therapies | Restoring Quality of Life
At the TMJ & Sleep Therapy Centre of the South Shore, we understand the unique complexities of TMJ-related snoring and sleep disorders.  Do you find yourself constantly suffering from trouble sleeping? Patients often experience facial neuralgia and musculoskeletal pain in conjunction with TMJ breathing disorders.

Are You Experiencing Any of the Following?
Any of the above could be a sign of a TMJ-related sleep disorder and should be evaluated promptly.
Schedule Your Appointment